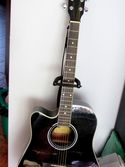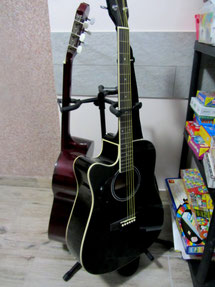 Od niedawna w  sali szkolnej pojawił się nowy sprzęt – gitary.  Planowałam  zajęcia  z wykorzystaniem gitar  wprowadzić w przyszłym roku, ale temat czasowników  nieregularnych wymusił na mnie użycie ich wcześniej J  Sama mam leworęczną  gitarę akustyczną, na której zaczęłam się uczyć niedawno, mając genialnego nauczyciela –Andy Crowley, który za darmo uczy gitary na autentycznych piosenkach,  m.in. Ed Sheeran (Andy, "UNI"), The Beatles (Andy, I've got a Feeling), The Rolling Stones (Andy, Satisfaction).  Nie trzeba wspominać, że dla dzieci i młodzieży to niesamowita frajda, gdy rozpoznają jakiś  fragment piosenki lub sami zaczną śpiewać J Dla kursantów mam przygotowaną praworęczną  gitarę klasyczną, aby mogli spróbować swoich sił!

Do czego wykorzystuję gitarę?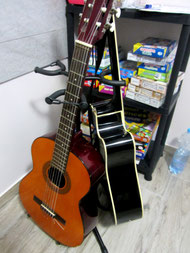 Obecnie do nauki czasowników nieregularnych. Przed nami koniec roku, a dzieci wcale nie mają łatwiej- czeka ich  jedno z najcięższych zadań, czyli zapoznanie się z tzw. "the horrible list", tj. listą czasowników nieregularnych w języku angielskim.  Niektóre grupy dopiero zaczynają przygodę z czasem przeszłym, więc do opanowania będzie niewielka lista czasowników, około 10. Ale są grupy, w których ta lista robi się naprawdę spora, ba, na dodatek wszystkie 2 odmiany czasowników (past simple i past participle). I tu często pojawia się problem, bo często tak naprawdę ta lista się ciągnie i jest wałkowana od podstawówki aż po liceum. 
A dokładniej?
W zależności od preferencji grupy, wybieramy melodię do  utrwalania czasowników –fajnie, jeżeli  słowa podparte są obrazkiem. I czasowniki są zawsze zaprezentowane w kontekście, tj. śpiewamy "SEE and SAW I saw  a ghost".  Przykładowa zwrotka z  słów dla grup bardziej zaawansowanych:
" BREAK and BROKE please help my BROKEN soul
EAT and ATE  the dog has  EATEN my bread"
(śpiewana do melodii z  refrenu piosenki "UNI" Eda Sheerana).
Piosenki utrwalamy co zajęcia, listę czasowników i melodię zmieniam, gdy widzę, że dzieci bez problemu potrafią odtworzyć wszystkie formy czasowników z piosenek. 

A na koniec
Darmowy kurs Andy Crowley Guitar zdecydowanie polecam wszystkim, którzy chcą się nauczyć grać na gitarze nawet od samych podstaw.  Jak z każdą nauką, gra na gitarze wymaga cierpliwości, czasu i utrwalania (starczy  nawet ok. 10 minut dziennie tylko!) Sam Andy poleca na początek granie na gitarze elektrycznej, ewentualnie  akustycznej. Dzieci i młodzież często chcą, więc może warto zachęcić  je do oglądania  nauki na gitarze w języku angielskim :- )  Niech wiedzą, że po coś tem język będzie im kiedyś potrzebny- np. do rozwijania swoich pasji. 
Paulina Łoboda