Jak uczyć pisania po angielsku maturzystów, aby uzyskać maksymalną ilość punktów? Da się? Da się!  Przejrzysty, jasny e-book przygotowujący do każdego elementu matury rozszerzonej (część pisemna).
CO ZAWIERA E-BOOK?
DLA UCZNIA
Bądź przygotowany na egzamin!
Czytelne

 i jasne przedstawienie każdego rodzaju wypracowania wymaganego na maturze rozszerzonej (

rozprawka, list formalny, artykuł

).
Każde wypracowanie podzielone jest na III kroki (

steps

), których opanowanie powinno doprowadzić do 

samodzielnego

 stworzenia tekstu na proponowany temat!
Przydatne zwroty,

 często używane podczas pisania danego typu wypracowania.
E-book zawiera również 

przykładowe wypracowania

, które za zawierają omówienie kluczowych elementów!
Unleash Your Writing Power,

 czyli strony, na których 

Ty masz napisać swoje własne wypracowanie

, korzystając z wcześniejszych podpowiedzi!
Self-check,

 czyli strona, na której to Ty 

sprawdzasz

, czy Twoje wypracowanie spełnia wymogi formalne danej formy literackiej.
Wytłumaczenie 

punktacji

 – ważne, abyś zrozumiał, za co jesteś oceniany!
Speak Up!

 – kilka pytań, na które zostaniesz poproszony, aby odpowiedzieć. Poćwicz też przed maturą ustną!
DO SAMODZIELNEJ PRACY W DOMU!
DLA NAUCZYCIELA
Postaw na praktykę i warsztat!
Gotowe do druku strony

, które możesz rozdać swoim kursantom!
Dokładne 

omówienie

 i 

rozpisanie

 przykładowych 

planów

, dzięki czemu Twoim kursantom powinno być łatwiej zrozumieć strukturę rozprawki, listu formalnego, artykułu.
Podzielenie każdego rodzaju wypracowania na 

3 kroki (steps

), które mają na celu wypracowanie umiejętności pisania wstępów, rozwinięć i zakończeń.
Przykładowe wypracowania wraz z omówieniem

, a następnie zadania dla Twoich kursantów – muszą napisać  krok po kroku wstęp, rozwinięcie, zakończenie.
Powtórzenie przed maturą ustną

 – niektóre strony mają dodatkowe pytania, na które kursanci są proszeni o przygotowanie wypowiedzi ustnej!
Tabele z przydatnymi zwrotami,

 które są często używane przy danym rodzaju wypracowania – jest to absolutne minimum konieczne do napisania wypracowania na maturze rozszerzonej.
DO PRACY W MAŁYCH GRUPACH LUB NA ZAJĘCIACH INDYWIDUALNYCH!
PRZYKŁADOWE STRONY
O AUTORCE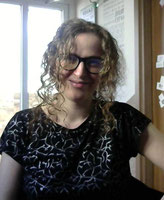 Uczę angielskiego już ponad 20 lat – zaczęłam uczyć innych, będąc jeszcze w  liceum w Krakowie. Nawet studiując na UJ 5-letnią polonistykę, uczyłam angielskiego – aż w końcu, aby uzyskać kwalifikacje, skończyłam również filologię angielską. Uwielbiam eksperymentować z nowymi metodami nauczania oraz wymyślać zabawy, które są angażujące nawet dla najbardziej wymagającej młodzieży! Uważam, że nic nie zabija chęci nauki tak bardzo, jak nuda.