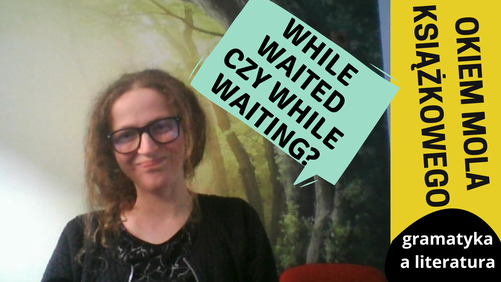 która forma jest poprawna?
1. "While she waited for Peter, she noticed a strange cat on his desk."
2. "While she was waiting for Peter, she noticed a strange cat on his desk."
3. "While she was waiting for Peter, she was noticing a strange cat on his desk."
Zgaduję, że najsłuszniejsze wydaje się zdanie nr 3! Później nr 2. Raczej nie - zdanie 1!  
Dlaczego nr 3?
 Bo idealnie pasuje w naszą szkolną definicję używania wyrazu "while" :) Na samym początku edukacji, gdy poznajemy past continuous (past progressive) to uczymy się, że jak jest "while" to prawie zawsze będzie w obu częściach zdania czas przeszły ciągły. Przyczepić się nie da, jest w tym dużo prawdy –  jeżeli uczymy się pod testy! (A, niestety, przecież tak jest). Tak więc  jeżeli macie przed sobą kartkówkę, sprawdzian, egzaminy... lepiej nie czytajcie dalej! :-) Naprawdę. 
Bo "while" naprawdę lubi czasy ciągłe. Tylko ci pisarze, oni  często utrudniają nam życie!
no dobra, to która forma jest poprawna?
Znów powiem straszną rzecz, z którą pewnie wielu się nie zgodzi, ale:
Wszystkie trzy zdania są gramatycznie poprawne!
Niektóre mają różne znaczenie, ale są poprawne!
Zdanie 1 i 3 mogą być stosowane wymiennie (dwie długie czynności, tyle samo trwały).
Zdanie 2 ma inne znaczenie, tj. w past continuous jest czynność dłuższa, a w past simple - czynność krótsza.
Przykłady z książek
1. Tutaj daję tylko te  przykłady z past simple (nr 1) przy "while", bo to chyba budzi najwięcej wątpliwości!
2. Przykłady z "was noticing"" (w czasie past continuous, nr 3) można znaleźć tutaj (podane są  gazety, w których została ta struktura gramatyczna użyta). 
"Notice" oznacza nie tylko zauważyć, ale też "obserwować" (źródło: The Free Dictionary)
"While hungry fires burnt in Vierna's eyes, defeated resignation lay in Dinin's." R. Salvatore, The Legacy
"Logen used to laugh at the Dogman's stories while they slogged through the snow." J. Abercrombie, Before They Are Hanged
Nie są to jednorazowe wybryki pisarzy, gdyż takich struktur w książkach jest dosyć sporo. 
Dlaczego?
Okazuje się, że simple past może być używany również w przypadku "simultaneous long actions." Co to znaczy? Że jeżeli są dwie czynności, każda z nich tak samo długa (tj. nie możemy powiedzieć, że któraś czynność była krótsza lub dłuższa), to wtedy można –  ale nie trzeba –   użyć również simple past!
Paulina Łoboda
Jeżeli lubisz czytać po angielsku