LOGUJĘ SIĘ JAKO TEN SAM UŻYTKOWNIK CAŁY CZAS
Mają Państwo dwójkę lub więcej dzieci, które korzystają z tego samego komputera/laptopa? Możliwe, że komputer zapisuje automatyczne te same ustawienia i cały czas włącza tego samego użytkownika i tę samą klasę!
Co można zrobić?
 Wyczyść lub odśwież pliki cookie na komputerze.
Użyj innej przeglądarki! (np. Google Chrome, Mozilla).
Zrestartuj komputer.
Jeżeli nic z tego nie pomaga, skontaktuj się ze mną!

KAMERA  LUB MIKROFON SIĘ NIE WŁĄCZAJĄ
1. System może zapytać o udzielenie zgody na wykorzystanie kamery. Jeśli jest zablokowana, można ją ponownie włączyć w pasku adresu przeglądarki, klikając na ikonę kamery.
2. Program antywirusowy może zablokować kamerę - najczęściej można to zmienić w dziale "Prywatność" w menu programu.
3. Spróbuj użyć innej przeglądarki! U mnie mikrofon działa tylko w Google Chrome. Przeglądarka Google Chrome jest polecana do platformy. 
4. Spróbuj włączyć kamerę lub mikrofon w  wirtualnej sali, jak na obrazku poniżej!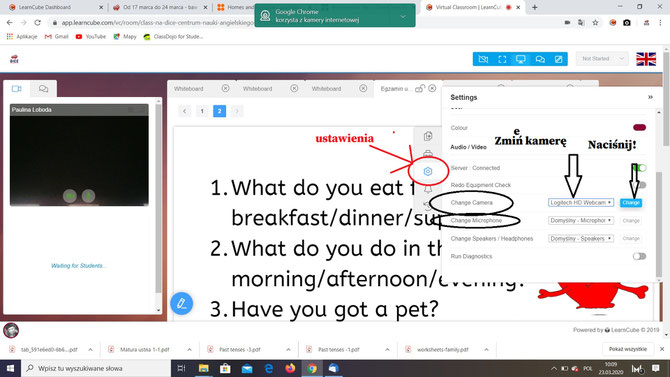 Jeżeli są problemy, proszę używać przeglądarki GOOGLE CHROME! :-) To jest polecana przeglądarka dla platformy.
NIE DZIAŁAJĄ SŁUCHAWKI/GŁOŚNIKI
1. Należy sprawdzić, czy na pewno są podłączone do odpowiedniego gniazda.
2. Sprawdzić "Mikser głośności" w prawym dolnym rogu ekranu - ikona głośnika - czy nie są wyciszone.

MIKROFON MI SZUMI
Szumy po podłączeniu mikrofonu mogą być spowodowane ustawieniem zbyt dużej głośności mikrofonu. Można to zmienić w klikając prawym przyciskiem myszy w ikonę głośnika w prawym dolnym rogu ekranu i wybierając opcję "Otwórz mikser głośności" lub "Otwórz ustawienia dźwięku" - odnaleźć mikrofon - wybrać właściwości urządzenia.

JESTEM SAM W (ZŁEJ) KLASIE, A LEKCJA POWINNA JUŻ BYĆ W TRAKCIE!
1. Jeżeli z przyczyn niezależnych ode mnie nie będzie mnie w klasie (np. niespodziewany  brak dostępu do internetu) - dam znać tak szybko, jak będę mogła!
2. Czasem przyczyna jest inna. Spróbuj wyjść z klasy i wejść ponownie - może okazać się, że ktoś tam już jest!
3. Jeżeli to nie działa, spróbuj wejść z innej przeglądarki, używając link, który wysłałam! Często komputer automatycznie zapisuje błędne ustawienia. Jak to nadal nie działa - wyczyść pliki cookie i znów wejdź na link, który wysłałam.
4. Jak nic nie działa, skorzystaj z linku "ogólnego" do wszystkich moich klas, który jest w punkcie 1 na tej stronie:
WYRZUCA MNIE Z SALI (ciągle dostaje DISCONNECTED)
Ponieważ kilka osób miało taki problem,  należy sprawdzić, czy nie  ma problemu z łączem internetowym lub włączona ochrona antywirusowa. Proszę wykonać test tutaj: